Towards a review of the Guinea mineral fiscal regime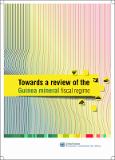 Date
2017-10
Author(s)/Corporate Author (s)
United Nations. Economic Commission for Africa;

Résumé
The Guinean minerals sector generally contributes around 25 per cent of gross domestic product (GDP) and accounts for about 95 per cent of export earnings, making it a "minerals dependent economy" by most classifications, including that of the World Bank. The country's bauxite production is ranked 5th in the world and its bauxite resources constitute about 25 per cent of global resources. Rough diamond production is ranked 12th in the world by volume and 13th by value. Guinea is at the cusp of major mineral developments, which could approach $20 billion in capex, and urgently needs support to ensure that the extraction of these finite national resources is optimized to obtain the maximum development impact (AMV/CMV) and inter-generational equity.
Citation
"United Nations. Economic Commission for Africa (2017-10). Towards a review of the Guinea mineral fiscal regime. Addis Ababa. © UN. ECA. "
Related items
Showing items related by title, author, creator and subject.
La production en mer de pétrole et de gaz naturel et la pollution des eaux de mer

Nations Unies. Commission Economique pour l'Afrique; Nations Unies. Conseil Economique et Social

"Hardy, Michael; Nations Unies. Commission Economique pour l'Afrique; Nations Unies. Conseil Economique et Social (1974-01). La production en mer de pétrole et de gaz naturel et la pollution des eaux de mer. NU. CEA Conférence régionale sur l'industrie pétrolière et les besoins de formation dans le domaine des hydrocarbures (1974, fév. 2 - 12 : Tripoli, Jamahiriya Arabe Libyenne). Addis Ababa :. © UN. ECA,. http://hdl.handle.net/10855/12359"

Programme d'action de Kampala

Nations Unies. Commission économique pour l'Afrique; Nations Unies. Conseil Economique et Social

"Nations Unies. Commission économique pour l'Afrique; Nations Unies. Conseil Economique et Social (1988-06). Programme d'action de Kampala. NU.CEA Conférence régionale sur la mise en valeur et l'utilisation des ressources minérales en Afrique (3ème: 1988, juin 13 - 15 : Kampala, Ouganda). Addis Ababa :. © UN. ECA,. http://hdl.handle.net/10855/20959"