Catalogue of learning & development initiatives 2017-18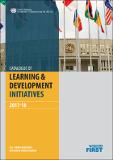 Published
2017
Author(s)/Corporate Author (s)
United Nations. Economic Commission for Africa;

Abstract
Learning and Development constitutes a practice area comprising strategies, programs, tools and activities that enhance the capability of the workforce to deliver on the organization's mandate whilst also supporting staff member's ability to carry out his or her functions effectively and to plan and enhance career development. The current offerings include a range of centrally coordinated programs and tools which support staff members in enhancing cross-cutting skills. In the context of the ECA, a key element of the learning & development initiatives are the substantive programs that are organized in support of skill upgradation of staff members to enable them address new and upcoming challenges in the commission's mandate. The objectives of the learning and development policy as outlined are to provide appropriate training opportunities to address the professional development needs of staff members and support the organization in fulfilling its mandates; assist and encourage staff members to develop and enhance their skills, knowledge and competencies and contribute to their professional growth; enable the organization to attract, retain, motivate and develop its staff; create a positive work environment and greater staff satisfaction and commitment.
Citation
"United Nations. Economic Commission for Africa (2017). Catalogue of learning & development initiatives 2017-18. Addis Ababa. © UN.ECA. "
Related items
Showing items related by title, author, creator and subject.
Administration des personnels départementaux et communaux

Nations Unies. Commission Economique pour l'Afrique; Nations Unies. Conseil Economique et Social

"Gandouin, Jacques; Nations Unies. Commission Economique pour l'Afrique; Nations Unies. Conseil Economique et Social (1966-11). Administration des personnels départementaux et communaux. NU. CEA Séminaire sur l'administration du personnel et la formation (1966, nov. 21 - déc. 3 Ouagadougou, Burkina Faso).. Addis Ababa :. © UN. ECA,. http://hdl.handle.net/10855/10981"

Soldes et Indemnités

Nations Unies. Commission Economique pour l'Afrique; Nations Unies. Conseil Economique et Social

"Weber, G.; Nations Unies. Commission Economique pour l'Afrique; Nations Unies. Conseil Economique et Social (1966-11). Soldes et Indemnités. NU. CEA Séminaire sur l'Administration du Personnel et la Formation (1966, nov. 21 - déc. 3 Ouagadougou, Burkina Faso).. Addis Ababa :. © UN. ECA,. http://hdl.handle.net/10855/11028"