Enhancing gender equality with the continental free trade area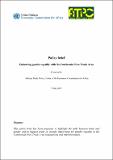 Published
2017-05
Author(s)/Corporate Author (s)
United Nations. Economic Commission for Africa. Regional Integration and Trade Division. African Trade Policy Center;

Abstract
This policy brief has been prepared to highlight the links between trade and gender and to suggest areas of specific importance for gender equality in the Continental Free Trade Area negotiations and implementation. The present brief includes proposals for reflecting gender concerns in the CFTA negotiations and implementation. It is organized as follows: section 2 discusses how gender considerations can be integrated into the agreement text and institutional framework; section 3 highlights areas of the agreement that will be of specific interest when considering gender impacts; and section 4 discusses measures for ensuring the effectiveness of gender mainstreaming in the agreement and the realization of the expected benefits for gender equality. Finally, section 5 concludes with recommendations.
Citation
"United Nations. Economic Commission for Africa. Regional Integration and Trade Division. African Trade Policy Center (2017-05). Enhancing gender equality with the continental free trade area. Addis Ababa. © UN.ECA. "
Serial Title
ECA Policy Brief
Related items
Showing items related by title, author, creator and subject.