African statistical yearbook = Annuaire statistique pour l'Afrique 2017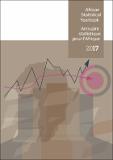 Published
2017
Author(s)/Corporate Author (s)
United Nations. Economic Commission for Africa;

Abstract
The Yearbook series is a result of joint efforts by major African regional organizations to set up a joint data collection mechanism of socioeconomic data on African countries as well as the development of a common harmonized database. It is expected that the joint collection and sharing of data between regional institutions will promote wider use of country data, reduce costs and significantly improve the quality of the data and lead to better monitoring of development initiatives on the continent. The data in this issue of the Yearbook are arranged generally for the years 2008 to 2016 or for the last nine years for which data are available. Every new edition of the Yearbook may imply changes of figures. As a general rule the latest version of the Yearbook overrules formerly versions in case of mismatches of data which had already been published in previous years. The Yearbook is published in one volume consisting of two parts: a set of summary tables followed by country tables.
Citation
"United Nations. Economic Commission for Africa (2017). African statistical yearbook = Annuaire statistique pour l'Afrique 2017. Addis Ababa. © UN. ECA. "
Related items
Showing items related by title, author, creator and subject.