Africa Mining Vision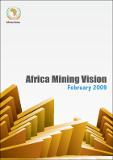 Published
2009-02
Author(s)/Corporate Author (s)
United Nations. Economic Commission for Africa;
African Union Commission;

Abstract
The Africa Mining Vision is informed by the outcomes of several initiatives and efforts made at sub-regional, continental and global levels to formulate policy and regulatory frameworks to maximize the development outcomes of mineral resources exploitation. The tentative framework for action presented below indicates in a matrix what needs to be done at national, sub-regional and continental levels to implement the Africa Mining Vision. Three stages of implementation have been identified, namely short-term, medium-term and long-term. Where possible, roles and responsibilities have been assigned to key players. The framework should be viewed as a dynamic tool that should be responsive to local context and stage of development of the mineral economy. Thus, trajectories to achieving the vision at country and sub-regional levels will be different. Notwithstanding, Africa will only achieve its ultimate goal of industrialization and development by acting collectively.
Citation
"United Nations. Economic Commission for Africa; African Union Commission (2009-02). Africa Mining Vision. Addis Ababa. © UN. ECA. "
Collections
Related items
Showing items related by title, author, creator and subject.
L'économie bleue: comment optimiser son potentiel

Nations Unies. Commission Economique pour l'Afrique; Nations Unies. Commission Economique pour l'Afrique

"Nations Unies. Commission Economique pour l'Afrique; Nations Unies. Commission Economique pour l'Afrique (2017-11). L'économie bleue: comment optimiser son potentiel. NU. CEA Réunion du Comité Intergouvernemental d'Experts(21ème :2017, 17-19 nov.:Moroni, Union des Comores). Addis Abeba. © NU. CEA. "

Tunisie : le développement de l'industrie pétrolière

Nations Unies. Commission Economique pour l'Afrique; Nations Unies. Conseil Economique et Social

"Nations Unies. Commission Economique pour l'Afrique; Nations Unies. Conseil Economique et Social (1973-09). Tunisie : le développement de l'industrie pétrolière. NU. CEA Conférence Régionale sur l'industrie pétrolière et les besoins de formation dans le domaine des hydrocarbures (1974, fév. 2 - 12 : Tripoli, Jamahiriya Arabe Libyenne). Addis Ababa:. © UN. ECA. http://hdl.handle.net/10855/12490"

The blue economy: how to leverage its full potential

United Nations. Economic Commission for Africa. Subregional Office East Africa (SRO-EA)

"United Nations. Economic Commission for Africa. Subregional Office East Africa (SRO-EA) (2017-11). The blue economy: how to leverage its full potential. UN. ECA Intergovernmental Committee of Experts (ICE) Meeting(21st: 2017, Nov. 07-09 :Moroni, Comoros). Addis Ababa. © UN. ECA. "