Transforming Africa's transport sector with the implementation of intended nationally determined contributions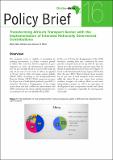 Published
2016
Author(s)/Corporate Author (s)
Nkem, Johnson N.;
Gicheru, Mercy Njeri;
United Nations. Economic Commission for Africa. Special Initiatives Division. African Climate Policy Center;

Abstract
The transport sector is capable of generating an enabling environment to catalyze economic growth in Africa. The sector has, however, experienced great stagnation in terms of infrastructural improvement over the past decades. this study unpacks Africa's transport sector NDCs in order to identify and highlight priority actions for both mitigation and adaptation that promote the structural transformation of the transport sector. The paper also seeks to identify and highlight emerging trends in the transport sector across Africa, while also assessing the feasibility of some of these commitments in terms of Africa's capability.
Citation
"Nkem, Johnson N.; Gicheru, Mercy Njeri; United Nations. Economic Commission for Africa. Special Initiatives Division. African Climate Policy Center (2016). Transforming Africa's transport sector with the implementation of intended nationally determined contributions. Policy brief(ClimDev-Africa). 16, 8 p.. Addis Ababa. © UN. ECA. "
Serial Title
Policy brief(ClimDev-Africa)
Related items
Showing items related by title, author, creator and subject.