Country profile Nigeria 2016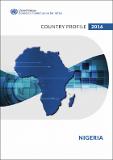 Published
2017-03
Author(s)/Corporate Author (s)
United Nations. Economic Commission for Africa;

Abstract
In 2015, the economy of Nigeria grew by 2.8 per cent, the lowest growth rate in 10 years. The main reason for that was that the oil price fell by 71.6 per cent between 2010 and 2015. While Nigeria's economy has long been dominated by agriculture, crude petroleum and gas, the 2014 GDP rebasing exercise has made visible a shift towards an economy led by manufacturing and services. The economy is now driven by non-oil sectors. In 2015, services accounted for the largest share of real GDP (37.9 per cent), followed by agriculture (20.5 per cent), industry (20.2 per cent), trade (17.5 per cent) and construction (4.4 per cent). The oil sector contributed only 11.7 per cent to real GDP, but it remained the chief contributor to exports (93 per cent) and public revenue (67.4 per cent). In 2015, Nigeria had an estimated 182.2 million inhabitants. The population was young and urbanizing fast, and was expected to reach 229 million by 2025.gross national income (GNI) per capita in 2015 as measured by the Atlas method was estimated at $2,820, making Nigeria a lower middle income country numerically, but one that lagged behind other emerging economies. As the leading economy in West Africa, Nigeria has been at the forefront of regional integration, even though the volume of its intraregional trade is low compared with what it could be. Nigeria ranks 48th of 51 countries on the continent in terms of the ratio of their intra-African goods trade to GDP.
Citation
"United Nations. Economic Commission for Africa (2017-03). Country profile Nigeria 2016. Addis Ababa:. © UN. ECA,. "
Related items
Showing items related by title, author, creator and subject.
Informality and inequality in Africa: exploring the linkages

United Nations. Economic and Social Council; United Nations. Economic Commission for Africa

"United Nations. Economic and Social Council; United Nations. Economic Commission for Africa (2017-09). Informality and inequality in Africa: exploring the linkages. UN. ECA Committee on Gender and Social Development(2nd session:2017, Oct. 11 - 12: Addis Ababa, Ethiopia). Addis Ababa. © UN. ECA. "

Objectifs stratégiques pour le développement socio-économique de l'Afrique dans les années 90

Nations Unies. Commission Economique pour l'Afrique; Nations Unies. Conseil Economique et Social

"Nations Unies. Commission Economique pour l'Afrique; Nations Unies. Conseil Economique et Social (1993-02). Objectifs stratégiques pour le développement socio-économique de l'Afrique dans les années 90. NU. CEA Réunion du Comité Technique Préparatoire Plénier (14ème : 1993, avr. 26 - 30 Addis Abeba, Ethiopie).; NU. CEA Conférence des ministres (19ème : 1993, mai 03 - 06 : Addis Abeba, Ethiopie).; NU. CEA Réunion de la conférence des ministres (20ème session de la commission : 1993, mai 03 - 06 : Addis Abeba, Ethiopie). Addis Abeba :. © NU. CEA,. http://hdl.handle.net/10855/6254"