Country profile Ghana 2016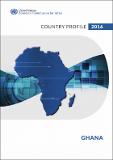 Published
2017-03
Author(s)/Corporate Author (s)
United Nations. Economic Commission for Africa;

Abstract
Ghana is the world's second-largest exporter of cocoa and Africa's second-largest producer of gold. Ghana sits on the gold coast, and at one time provided half of the world's gold. Until the recent advent of oil, the country's main export products were cocoa and gold. The recent economic development seen in Ghana can be divided into two periods. The country recorded an impressive economic performance during the implementation of the previous GSGDA (2010-2013), with an average real growth rate of 9.6 per cent per annum. That growth, largely related to the discovery of oil and its export, was higher than that of West Africa (6.4 per cent) and Africa as a whole (4.7 per cent). Since 2013, the economy of Ghana has endured a growing public deficit (fiscal and trade deficits of nearly 12 per cent in 2013), high inflation and a weakening currency. The average growth rate for the period of 2014 and 2015 was around 4.1 per cent, below the West African average of 5.2 per cent. Ghana pursued macroeconomic stability policies and strategies under a program of the International Monetary Fund during the implementation phase of GSGDA II. The focus of education policy in Ghana over the past decade has been geared towards the attainment of the Millennium Development Goals relevant to education as well as the Education for All goals. The gross primary school enrollment goal was achieved in 2012, ahead of the 2015 schedule.
Citation
"United Nations. Economic Commission for Africa (2017-03). Country profile Ghana 2016. Addis Ababa:. © UN. ECA,. "
Related items
Showing items related by title, author, creator and subject.
Objectifs stratégiques pour le développement socio-économique de l'Afrique dans les années 90

Nations Unies. Commission Economique pour l'Afrique; Nations Unies. Conseil Economique et Social

"Nations Unies. Commission Economique pour l'Afrique; Nations Unies. Conseil Economique et Social (1993-02). Objectifs stratégiques pour le développement socio-économique de l'Afrique dans les années 90. NU. CEA Réunion du Comité Technique Préparatoire Plénier (14ème : 1993, avr. 26 - 30 Addis Abeba, Ethiopie).; NU. CEA Conférence des ministres (19ème : 1993, mai 03 - 06 : Addis Abeba, Ethiopie).; NU. CEA Réunion de la conférence des ministres (20ème session de la commission : 1993, mai 03 - 06 : Addis Abeba, Ethiopie). Addis Abeba :. © NU. CEA,. http://hdl.handle.net/10855/6254"

Informality and inequality in Africa: exploring the linkages

United Nations. Economic and Social Council; United Nations. Economic Commission for Africa

"United Nations. Economic and Social Council; United Nations. Economic Commission for Africa (2017-09). Informality and inequality in Africa: exploring the linkages. UN. ECA Committee on Gender and Social Development(2nd session:2017, Oct. 11 - 12: Addis Ababa, Ethiopia). Addis Ababa. © UN. ECA. "