Country profile Mauritius 2016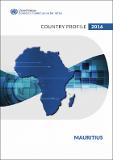 Published
2017-03
Author(s)/Corporate Author (s)
United Nations. Economic Commission for Africa;

Abstract
Real GDP growth in Mauritius has consistently outperformed southern Africa since 2013, and in 2015 was higher than the continental average, registering 3.5 per cent, compared with 3.4 per cent for Africa as a whole. In 2016, real GDP growth is estimated to have diverged further, with Mauritius anticipated to have grown 3.9 per cent, compared with only 1.0 per cent for southern Africa and 1.7 per cent for the entire continent. The economic structure of Mauritius differs from that of most other southern African countries in terms of the important role of manufacturing and the small role played by commodity exports, primarily sugar. Global economic developments therefore affect the island nation in ways that differ significantly from its counterparts in SADC and COMESA, of which the country is a member. In an environment of low investment and high unemployment, the Government has set its sights on new engines of growth. A crucial aspect of the country's economic strategy focuses on regional integration with the African continent. The Mauritius Africa Strategy seeks to position the island nation as a hub between Asia and Africa for trade, finance, tourism, health care and education.
Citation
"United Nations. Economic Commission for Africa (2017-03). Country profile Mauritius 2016. Addis Ababa:. © UN. ECA,. "
Related items
Showing items related by title, author, creator and subject.
Informality and inequality in Africa: exploring the linkages

United Nations. Economic and Social Council; United Nations. Economic Commission for Africa

"United Nations. Economic and Social Council; United Nations. Economic Commission for Africa (2017-09). Informality and inequality in Africa: exploring the linkages. UN. ECA Committee on Gender and Social Development(2nd session:2017, Oct. 11 - 12: Addis Ababa, Ethiopia). Addis Ababa. © UN. ECA. "

Objectifs stratégiques pour le développement socio-économique de l'Afrique dans les années 90

Nations Unies. Commission Economique pour l'Afrique; Nations Unies. Conseil Economique et Social

"Nations Unies. Commission Economique pour l'Afrique; Nations Unies. Conseil Economique et Social (1993-02). Objectifs stratégiques pour le développement socio-économique de l'Afrique dans les années 90. NU. CEA Réunion du Comité Technique Préparatoire Plénier (14ème : 1993, avr. 26 - 30 Addis Abeba, Ethiopie).; NU. CEA Conférence des ministres (19ème : 1993, mai 03 - 06 : Addis Abeba, Ethiopie).; NU. CEA Réunion de la conférence des ministres (20ème session de la commission : 1993, mai 03 - 06 : Addis Abeba, Ethiopie). Addis Abeba :. © NU. CEA,. http://hdl.handle.net/10855/6254"