Country profile Somalia 2016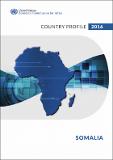 Published
2017-03
Author(s)/Corporate Author (s)
United Nations. Economic Commission for Africa;

Abstract
The economy of Somalia is recovering from a prolonged crisis. The collapse of the regime of President Mohamed Siad Barre in 1991 ushered in a turbulent period of conflict and humanitarian crises. Official statistics for the period are not available, but annual economic growth rates are estimated to have averaged close to zero or were negative over the 1990s and 2000s. A new Federal Government was appointed in 2012, however, following gradual improvements in security over the five years prior to that. Stability is now steadily returning to large parts of the country. The average growth of the economy of Somalia between 2010 and 2015 is estimated to have been 3 per cent per year. That is below the equivalent figures for both Africa as a whole and East Africa, which were 3.6 and 6.9 per cent respectively. However, the growth of the country increased in 2013 and has closely tracked the African growth rate every year since. Furthermore, the outlook is positive. Together with the International Monetary Fund (IMF), the Government of Somalia expects the economy to grow 3.6 per cent in 2016 and 4.3 per cent in 2017. The fiscal deficit remains within sustainable limits and exports are beginning to grow once more.
Citation
"United Nations. Economic Commission for Africa (2017-03). Country profile Somalia 2016. Addis Ababa:. © UN. ECA,. "
Related items
Showing items related by title, author, creator and subject.
Informality and inequality in Africa: exploring the linkages

United Nations. Economic and Social Council; United Nations. Economic Commission for Africa

"United Nations. Economic and Social Council; United Nations. Economic Commission for Africa (2017-09). Informality and inequality in Africa: exploring the linkages. UN. ECA Committee on Gender and Social Development(2nd session:2017, Oct. 11 - 12: Addis Ababa, Ethiopia). Addis Ababa. © UN. ECA. "

Objectifs stratégiques pour le développement socio-économique de l'Afrique dans les années 90

Nations Unies. Commission Economique pour l'Afrique; Nations Unies. Conseil Economique et Social

"Nations Unies. Commission Economique pour l'Afrique; Nations Unies. Conseil Economique et Social (1993-02). Objectifs stratégiques pour le développement socio-économique de l'Afrique dans les années 90. NU. CEA Réunion du Comité Technique Préparatoire Plénier (14ème : 1993, avr. 26 - 30 Addis Abeba, Ethiopie).; NU. CEA Conférence des ministres (19ème : 1993, mai 03 - 06 : Addis Abeba, Ethiopie).; NU. CEA Réunion de la conférence des ministres (20ème session de la commission : 1993, mai 03 - 06 : Addis Abeba, Ethiopie). Addis Abeba :. © NU. CEA,. http://hdl.handle.net/10855/6254"