Country profile Algeria 2016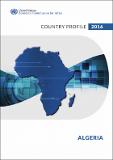 Published
2017-03
Author(s)/Corporate Author (s)
United Nations. Economic Commission for Africa;

Abstract
Algeria economy grew by 3.9 per cent in 2015, compared with 3.8 per cent in 2014, the economy is weathering the crisis which affected the hydrocarbons sector in the second half of 2014. Despite the fall in oil prices and its impact on state finances, the pace of growth was maintained through sustained public investment and a generous redistribution policy. Gross domestic product excluding hydrocarbons recorded growth of 5.5 per cent in 2015 compared with 5.6 per cent in 2014, with an average of 6.8 per cent during the period 2011- 2013. The growth of GDP in 2015 was driven by agriculture which contributed 0.8 per cent, trade 0.7 per cent, construction 0.5 per cent and transport and communications 0.5 per cent. With respect to the budget, oil taxation supplies more than 60 per cent of the country's budget resources. Consequently, in the medium to long term, Algeria will have to deal with the issue of economic diversification. In the short term, the country is facing a continually increasing budget deficit as a result of the fall in oil prices: the fiscal balance amounted to 9 per cent of GDP in 2014 and fell to 16 per cent in 2015. The Government needs to find a way to control the worsening situation of public finances without slowing down growth. This country profile consists of six aspects of the fundamentals of the Algerian economy: national and subregional context; economic growth; public finances; monetary policy; balance of payments and foreign trade ; capital and financial account.
Citation
"United Nations. Economic Commission for Africa (2017-03). Country profile Algeria 2016. Addis Ababa:. © UN. ECA,. "
Related items
Showing items related by title, author, creator and subject.
Informality and inequality in Africa: exploring the linkages

United Nations. Economic and Social Council; United Nations. Economic Commission for Africa

"United Nations. Economic and Social Council; United Nations. Economic Commission for Africa (2017-09). Informality and inequality in Africa: exploring the linkages. UN. ECA Committee on Gender and Social Development(2nd session:2017, Oct. 11 - 12: Addis Ababa, Ethiopia). Addis Ababa. © UN. ECA. "

Objectifs stratégiques pour le développement socio-économique de l'Afrique dans les années 90

Nations Unies. Commission Economique pour l'Afrique; Nations Unies. Conseil Economique et Social

"Nations Unies. Commission Economique pour l'Afrique; Nations Unies. Conseil Economique et Social (1993-02). Objectifs stratégiques pour le développement socio-économique de l'Afrique dans les années 90. NU. CEA Réunion du Comité Technique Préparatoire Plénier (14ème : 1993, avr. 26 - 30 Addis Abeba, Ethiopie).; NU. CEA Conférence des ministres (19ème : 1993, mai 03 - 06 : Addis Abeba, Ethiopie).; NU. CEA Réunion de la conférence des ministres (20ème session de la commission : 1993, mai 03 - 06 : Addis Abeba, Ethiopie). Addis Abeba :. © NU. CEA,. http://hdl.handle.net/10855/6254"