Country profile Angola 2016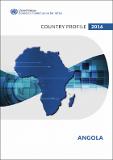 Published
2017-03
Author(s)/Corporate Author (s)
United Nations. Economic Commission for Africa;

Abstract
The pace of economic growth in Angola remained subdued in 2016, with a projected rate of 3.0 per cent, as it was strongly affected by low oil prices in the world markets. In addition to the oil sector, recent growth has been mainly driven by developments in energy and construction. To compensate for the limited revenues from oil sales and taxes, the fiscal authorities raised consumption and import taxes, reduced expenditures and cut subsidies among other measures. On the monetary side, the external shock has led to a depreciation of the kwanza and higher inflation, amplifying the possible detrimental effect of the fiscal adjustments on the poor. The trade balance has also shrunk because of the lower value of oil exports, resulting in negative current account balance for the years 2014 and 2015. Diversification of the economy is a crucial step to ensure sustainable growth. The country's efforts to bring structural transformation currently focus on modernizing and constructing infrastructure, spanning from transport networks, energy and water facilities to telecommunication. Ensuring sustainable funding, attracting investors and raising competitiveness are among the greatest challenges of the State. Simultaneously, guaranteeing positive social spillovers should be another focus area of the policymakers.
Citation
"United Nations. Economic Commission for Africa (2017-03). Country profile Angola 2016. Addis Ababa:. © UN. ECA,. "
Related items
Showing items related by title, author, creator and subject.
Country profile Rwanda 2015

United Nations.Economic Commission for Africa.Eastern Africa Subregional Development Centre(SRDC-EA)

"Mold, Andrew; United Nations.Economic Commission for Africa.Eastern Africa Subregional Development Centre(SRDC-EA) (2016-03). Country profile Rwanda 2015. Addis Ababa:. © UN. ECA,. "

Country profile Swaziland 2016

United Nations. Economic Commission for Africa

"United Nations. Economic Commission for Africa (2017-03). Country profile Swaziland 2016. Addis Ababa:. © UN. ECA,. "

Country profile Tunisia 2016

United Nations. Economic Commission for Africa

"United Nations. Economic Commission for Africa (2017-03). Country profile Tunisia 2016. Addis Ababa:. © UN. ECA,. "