Country profile Chad 2016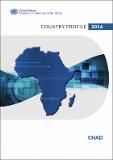 Published
2017-03
Author(s)/Corporate Author (s)
United Nations. Economic Commission for Africa;

Abstract
Despite the 9.1 per cent increase in the primary sector, the real GDP growth rate in Chad fell from 6.9 per cent in 2014 to 2.5 per cent in 2015; this is due to the decline in activity in the secondary and tertiary sectors, amounting to 5 per cent and 1 per cent, respectively. The situation is not expected to improve in 2016. The real GDP growth rate is expected to be 3 per cent, affected by poor performance in all sectors. The shortage of foodstuffs on the markets, due to poor rainfall and the security crisis in the region, caused inflation to increase to 3.7 per cent in 2015, which is above the Community average of 3 per cent. In the area of management of public finances, the budget stood at 1.8 per cent of GDP in 2015, compared with 2.1 per cent in 2014. The current account deficit has increased, from 11.7 per cent of GDP in 2014 to 16.9 per cent in 2015. The poverty rate, which stood at 46.7 per cent in 2011, remains high, albeit lower than the rate of 55 per cent recorded in 2003. However, unemployment has fallen from 11.9 per cent in 2003 to 5.7 per cent in 2011, although there are still inequalities in access to employment: women continue to experience more problems than men for cultural and social reasons.
Citation
"United Nations. Economic Commission for Africa (2017-03). Country profile Chad 2016. Addis Ababa:. © UN. ECA,. "
Related items
Showing items related by title, author, creator and subject.
Objectifs stratégiques pour le développement socio-économique de l'Afrique dans les années 90

Nations Unies. Commission Economique pour l'Afrique; Nations Unies. Conseil Economique et Social

"Nations Unies. Commission Economique pour l'Afrique; Nations Unies. Conseil Economique et Social (1993-02). Objectifs stratégiques pour le développement socio-économique de l'Afrique dans les années 90. NU. CEA Réunion du Comité Technique Préparatoire Plénier (14ème : 1993, avr. 26 - 30 Addis Abeba, Ethiopie).; NU. CEA Conférence des ministres (19ème : 1993, mai 03 - 06 : Addis Abeba, Ethiopie).; NU. CEA Réunion de la conférence des ministres (20ème session de la commission : 1993, mai 03 - 06 : Addis Abeba, Ethiopie). Addis Abeba :. © NU. CEA,. http://hdl.handle.net/10855/6254"

Informality and inequality in Africa: exploring the linkages

United Nations. Economic and Social Council; United Nations. Economic Commission for Africa

"United Nations. Economic and Social Council; United Nations. Economic Commission for Africa (2017-09). Informality and inequality in Africa: exploring the linkages. UN. ECA Committee on Gender and Social Development(2nd session:2017, Oct. 11 - 12: Addis Ababa, Ethiopia). Addis Ababa. © UN. ECA. "