Country profile Gabon 2016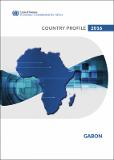 Published
2017-03
Author(s)/Corporate Author (s)
United Nations. Economic Commission for Africa;

Abstract
Gabon has been dealing with the consequences of the progressive price decline in its major export commodities, including oil and manganese, since the second half of 2014. In 2015, these adverse conditions led to a slowdown in growth. The considerable and continuous decline in oil prices since mid-2014 should alert Gabonese authorities to the importance of promoting the most productive sectors in order to enjoy high, sustained and inclusive growth. It is now more than necessary to sustainably develop the considerable potential of tropical forests in order to have alternative sources of revenue and be less dependent on extractive industries. The hope is that the negative impact on Gabon of the current decline in oil prices on the economic activity, public finances and current account will lead to an awareness of the need to accelerate the structural transformation of the economy through the development of the wood industry without serious harm to the environment.
Citation
"United Nations. Economic Commission for Africa (2017-03). Country profile Gabon 2016. Addis Ababa:. © UN. ECA,. "
Related items
Showing items related by title, author, creator and subject.
Informality and inequality in Africa: exploring the linkages

United Nations. Economic and Social Council; United Nations. Economic Commission for Africa

"United Nations. Economic and Social Council; United Nations. Economic Commission for Africa (2017-09). Informality and inequality in Africa: exploring the linkages. UN. ECA Committee on Gender and Social Development(2nd session:2017, Oct. 11 - 12: Addis Ababa, Ethiopia). Addis Ababa. © UN. ECA. "

Objectifs stratégiques pour le développement socio-économique de l'Afrique dans les années 90

Nations Unies. Commission Economique pour l'Afrique; Nations Unies. Conseil Economique et Social

"Nations Unies. Commission Economique pour l'Afrique; Nations Unies. Conseil Economique et Social (1993-02). Objectifs stratégiques pour le développement socio-économique de l'Afrique dans les années 90. NU. CEA Réunion du Comité Technique Préparatoire Plénier (14ème : 1993, avr. 26 - 30 Addis Abeba, Ethiopie).; NU. CEA Conférence des ministres (19ème : 1993, mai 03 - 06 : Addis Abeba, Ethiopie).; NU. CEA Réunion de la conférence des ministres (20ème session de la commission : 1993, mai 03 - 06 : Addis Abeba, Ethiopie). Addis Abeba :. © NU. CEA,. http://hdl.handle.net/10855/6254"