Country profile Central African Republic 2016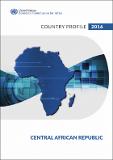 Published
2017-03
Author(s)/Corporate Author (s)
United Nations. Economic Commission for Africa;

Abstract
The resumption of economic activity in the Central African Republic began in 2014 and continued in 2015. According to Bank of Central African States data, the real GDP growth rate was 4.9 per cent in 2015, an increase of 0.7 per cent compared to 2014. This good performance was boosted by the relative calm in the security situation in particular. The social situation remains precarious owing to the successive sociopolitical crises that the Central African Republic has experienced over the past two decades, the most recent of which plunged the country into civil war between 2012 and 2013. This is the reason for the severe deterioration of social indicators from the final evaluation report on the Millennium Development Goals. The newly elected authorities must make every effort to rebuild the economy and restore social cohesion. They must also address one of the country's main challenges, namely the reconstruction of socio economic infrastructure through, inter alia, development corridors intended to transform the country.
Citation
"United Nations. Economic Commission for Africa (2017-03). Country profile Central African Republic 2016. Addis Ababa:. © UN. ECA,. "
Related items
Showing items related by title, author, creator and subject.
Informality and inequality in Africa: exploring the linkages

United Nations. Economic and Social Council; United Nations. Economic Commission for Africa

"United Nations. Economic and Social Council; United Nations. Economic Commission for Africa (2017-09). Informality and inequality in Africa: exploring the linkages. UN. ECA Committee on Gender and Social Development(2nd session:2017, Oct. 11 - 12: Addis Ababa, Ethiopia). Addis Ababa. © UN. ECA. "

Objectifs stratégiques pour le développement socio-économique de l'Afrique dans les années 90

Nations Unies. Commission Economique pour l'Afrique; Nations Unies. Conseil Economique et Social

"Nations Unies. Commission Economique pour l'Afrique; Nations Unies. Conseil Economique et Social (1993-02). Objectifs stratégiques pour le développement socio-économique de l'Afrique dans les années 90. NU. CEA Réunion du Comité Technique Préparatoire Plénier (14ème : 1993, avr. 26 - 30 Addis Abeba, Ethiopie).; NU. CEA Conférence des ministres (19ème : 1993, mai 03 - 06 : Addis Abeba, Ethiopie).; NU. CEA Réunion de la conférence des ministres (20ème session de la commission : 1993, mai 03 - 06 : Addis Abeba, Ethiopie). Addis Abeba :. © NU. CEA,. http://hdl.handle.net/10855/6254"