Country profile South Africa 2016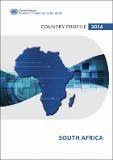 Published
2017-03
Author(s)/Corporate Author (s)
United Nations. Economic Commission for Africa;

Abstract
After an economic growth rate averaging 3.1 per cent in the period 1994-2004 the first 10 years of independence for South Africa that rate has gradually slowed, averaging 2.8 per cent in the period 2005-2015, with sharper declines in recent years and a projected growth rate of less than 1 per cent in 2016. The real per capita GDP has consequently dropped steadily from $8,090 in 2011 to $5,696 in 2015. Poor economic performance in South Africa is due to drought, labor unrest, policy uncertainties and the slump in commodity demand and prices. High unemployment remains one of the country's serious challenges. Sound macroeconomic policy at the national level has enabled a retention of the investment grade. Improvements in the power sector have restored reliable electricity supply, helped by sizable foreign direct investments in the renewable energy sector. Vast investments of this type have also gone into the auto and banking sectors, making South Africa the continent's top foreign direct investment destination in 2015. South Africa's key challenges are poverty and inequality, the high unemployment rate, and poor economic performance. Addressing these challenges necessarily means removing obstacles to lifting economic growth, including through sector-specific policies, to absorb the large labor pool.
Citation
"United Nations. Economic Commission for Africa (2017-03). Country profile South Africa 2016. Addis Ababa:. © UN. ECA,. "
Related items
Showing items related by title, author, creator and subject.
Informality and inequality in Africa: exploring the linkages

United Nations. Economic and Social Council; United Nations. Economic Commission for Africa

"United Nations. Economic and Social Council; United Nations. Economic Commission for Africa (2017-09). Informality and inequality in Africa: exploring the linkages. UN. ECA Committee on Gender and Social Development(2nd session:2017, Oct. 11 - 12: Addis Ababa, Ethiopia). Addis Ababa. © UN. ECA. "

Objectifs stratégiques pour le développement socio-économique de l'Afrique dans les années 90

Nations Unies. Commission Economique pour l'Afrique; Nations Unies. Conseil Economique et Social

"Nations Unies. Commission Economique pour l'Afrique; Nations Unies. Conseil Economique et Social (1993-02). Objectifs stratégiques pour le développement socio-économique de l'Afrique dans les années 90. NU. CEA Réunion du Comité Technique Préparatoire Plénier (14ème : 1993, avr. 26 - 30 Addis Abeba, Ethiopie).; NU. CEA Conférence des ministres (19ème : 1993, mai 03 - 06 : Addis Abeba, Ethiopie).; NU. CEA Réunion de la conférence des ministres (20ème session de la commission : 1993, mai 03 - 06 : Addis Abeba, Ethiopie). Addis Abeba :. © NU. CEA,. http://hdl.handle.net/10855/6254"