Country profile Djibouti 2016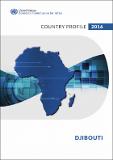 Published
2017-03
Author(s)/Corporate Author (s)
United Nations. Economic Commission for Africa;

Abstract
Djibouti, a country in the Horn of Africa, is home to 939,300 people (DISED, 2015). The economy is heavily reliant on and benefits from its geostrategic location in East Africa, at the entrance to the Red Sea and the Gulf of Aden on the Indian Ocean coast. This location presents opportunities and challenges for economic growth and development. Clearly, the location of Djibouti has contributed to its economic growth. Exploitation of this natural endowment has enabled the country to embark on massive infrastructure to boost economic growth. Compared with other countries in the region, Djibouti has realized a steady growth, rising from 4.5 per cent in 2011 to 6.5 per cent in 2015. This has been fueled largely by the expansion in ports services, which have resulted in a concomitant steady revenue. Although it outperforms the continental average, the country's GDP growth rate fails to match the subregional standard for 2014 and 2015. Furthermore, the Government projected a growth of 7.2 per cent in 2016 on the basis of massive public and private investments.
Citation
"United Nations. Economic Commission for Africa (2017-03). Country profile Djibouti 2016. Addis Ababa:. © UN. ECA,. "
Related items
Showing items related by title, author, creator and subject.
Objectifs stratégiques pour le développement socio-économique de l'Afrique dans les années 90

Nations Unies. Commission Economique pour l'Afrique; Nations Unies. Conseil Economique et Social

"Nations Unies. Commission Economique pour l'Afrique; Nations Unies. Conseil Economique et Social (1993-02). Objectifs stratégiques pour le développement socio-économique de l'Afrique dans les années 90. NU. CEA Réunion du Comité Technique Préparatoire Plénier (14ème : 1993, avr. 26 - 30 Addis Abeba, Ethiopie).; NU. CEA Conférence des ministres (19ème : 1993, mai 03 - 06 : Addis Abeba, Ethiopie).; NU. CEA Réunion de la conférence des ministres (20ème session de la commission : 1993, mai 03 - 06 : Addis Abeba, Ethiopie). Addis Abeba :. © NU. CEA,. http://hdl.handle.net/10855/6254"

Informality and inequality in Africa: exploring the linkages

United Nations. Economic and Social Council; United Nations. Economic Commission for Africa

"United Nations. Economic and Social Council; United Nations. Economic Commission for Africa (2017-09). Informality and inequality in Africa: exploring the linkages. UN. ECA Committee on Gender and Social Development(2nd session:2017, Oct. 11 - 12: Addis Ababa, Ethiopia). Addis Ababa. © UN. ECA. "