Country profile Swaziland 2016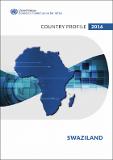 Published
2017-03
Author(s)/Corporate Author (s)
United Nations. Economic Commission for Africa;

Abstract
In terms of the economy of Swaziland, growth has been recovering since the 2010/11 fiscal crisis, albeit at a subdued pace. The average growth rate between 2010 and 2015 was 2.6 per cent and according to the Budget Speech 2016, the economy is expected to slow down to an average of 1.5 per cent between 2016/17 and 2018/19 from 1.7 per cent in 2015, owing to declining revenues from the Southern Africa Customs Union (SACU), which are posing fiscal and external balance challenges. The economy of Swaziland is closely linked to that of South Africa (which is the main trading and investment partner) and weak economic prospects in the latter continue to pose downside risks for trade and overall economic performance. In order to improve macroeconomic and financial stability, Swaziland has adopted some measures that are essential for ensuring resilience to external shocks, thereby boosting growth. In addition, there are efforts to create an environment conducive to attract investment - both in terms of indigenous and foreign direct investment. The objective is to diversify exports and promote the growth of micro, small and medium sized enterprises (MSMEs) in order to facilitate employment creation opportunities and income distribution.
Citation
"United Nations. Economic Commission for Africa (2017-03). Country profile Swaziland 2016. Addis Ababa:. © UN. ECA,. "
Related items
Showing items related by title, author, creator and subject.
Informality and inequality in Africa: exploring the linkages

United Nations. Economic and Social Council; United Nations. Economic Commission for Africa

"United Nations. Economic and Social Council; United Nations. Economic Commission for Africa (2017-09). Informality and inequality in Africa: exploring the linkages. UN. ECA Committee on Gender and Social Development(2nd session:2017, Oct. 11 - 12: Addis Ababa, Ethiopia). Addis Ababa. © UN. ECA. "

Objectifs stratégiques pour le développement socio-économique de l'Afrique dans les années 90

Nations Unies. Commission Economique pour l'Afrique; Nations Unies. Conseil Economique et Social

"Nations Unies. Commission Economique pour l'Afrique; Nations Unies. Conseil Economique et Social (1993-02). Objectifs stratégiques pour le développement socio-économique de l'Afrique dans les années 90. NU. CEA Réunion du Comité Technique Préparatoire Plénier (14ème : 1993, avr. 26 - 30 Addis Abeba, Ethiopie).; NU. CEA Conférence des ministres (19ème : 1993, mai 03 - 06 : Addis Abeba, Ethiopie).; NU. CEA Réunion de la conférence des ministres (20ème session de la commission : 1993, mai 03 - 06 : Addis Abeba, Ethiopie). Addis Abeba :. © NU. CEA,. http://hdl.handle.net/10855/6254"