Country profile Tunisia 2016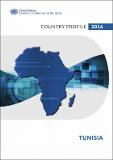 Published
2017-03
Author(s)/Corporate Author (s)
United Nations. Economic Commission for Africa;

Abstract
The Tunisian economy has been severely affected by the resurgence of terrorism and its impact on tourism, a key sector for the country; other factors include low foreign demand, notably European, with uncertain resumption of its growth, being caught up in the Libyan crisis and internal social tensions in various sectors. Economic growth stood at 0.8 per cent in 2015 compared with 2.3 per cent in 2014. the tourism sector made a weak contribution to growth, in contrast to the standard practice of recent years. Behind these economic difficulties, however, lie problems of a structural nature which this country profile proposes to identify and which are considered later in the text. Recommendations to the Government of Tunisia are made in this country profile to pay particular attention to the tourism sector in its program of reform so that the sector, which has already benefited from support in the past, can offer the promise of future success.
Citation
"United Nations. Economic Commission for Africa (2017-03). Country profile Tunisia 2016. Addis Ababa:. © UN. ECA,. "
Related items
Showing items related by title, author, creator and subject.
Informality and inequality in Africa: exploring the linkages

United Nations. Economic and Social Council; United Nations. Economic Commission for Africa

"United Nations. Economic and Social Council; United Nations. Economic Commission for Africa (2017-09). Informality and inequality in Africa: exploring the linkages. UN. ECA Committee on Gender and Social Development(2nd session:2017, Oct. 11 - 12: Addis Ababa, Ethiopia). Addis Ababa. © UN. ECA. "

Objectifs stratégiques pour le développement socio-économique de l'Afrique dans les années 90

Nations Unies. Commission Economique pour l'Afrique; Nations Unies. Conseil Economique et Social

"Nations Unies. Commission Economique pour l'Afrique; Nations Unies. Conseil Economique et Social (1993-02). Objectifs stratégiques pour le développement socio-économique de l'Afrique dans les années 90. NU. CEA Réunion du Comité Technique Préparatoire Plénier (14ème : 1993, avr. 26 - 30 Addis Abeba, Ethiopie).; NU. CEA Conférence des ministres (19ème : 1993, mai 03 - 06 : Addis Abeba, Ethiopie).; NU. CEA Réunion de la conférence des ministres (20ème session de la commission : 1993, mai 03 - 06 : Addis Abeba, Ethiopie). Addis Abeba :. © NU. CEA,. http://hdl.handle.net/10855/6254"