Framework for a renewed United Nations and African Union partnership on Africa's integration and development agenda 2017-2027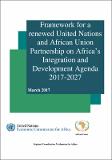 Published
2017-03
Author(s)/Corporate Author (s)
United Nations. Economic Commission for Africa;
African Union Commission;

Abstract
The United Nations entities in the RCM-Africa system have partnered well with the African Union, as it came up with strong frameworks, agendas, plans and programs of action for Africa's integration and development; and industrial development, infrastructure, farming, science and technology, human resources, governance and human rights, peace and security, etc. It has also provided strong support to the African Union in its negotiations on global issues such as international trade (the Doha Round) and climate change. Furthermore, the African Union, in close and active collaboration with the United Nations system in Africa, has formulated several short, medium- and long-term integration and development blueprints – Agenda 2063 and its First Ten-Year Implementation Plan 2013–2023, the African Union Commission and the NEPAD Agency Strategic Plans, and the common African position post- 2015.
Citation
"United Nations. Economic Commission for Africa; African Union Commission (2017-03). Framework for a renewed United Nations and African Union partnership on Africa's integration and development agenda 2017-2027. Addis Ababa:. © UN. ECA,. "
Related items
Showing items related by title, author, creator and subject.