Harnessing demographic dividend through investment in the youth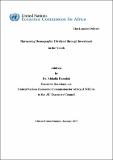 Published
2017-01
Author(s)/Corporate Author (s)
United Nations. Economic Commission for Africa;

Abstract
The theme of this year's Summit on "Harnessing the Demographic Dividend through Investments in Youth" is indeed relevant and timely and is at the heart of the political, economic and social issues shaping the debate on the continent's development. Unlike any other time in recent history, Africa and the whole world are confronted today with critical emerging and ongoing developments that are likely to shape the future of humanity for many years to come. In this context, the statement focus on FIVE key messages that would present major challenges as well as opportunities for the continent to foster transformative and inclusive development. These messages relate to global mega-trends; the imperative of promoting good governance, peace and security; the theme of the AU Assembly; development policy framework needed for the Continent to accelerate investment in its youth and promote transformative and inclusive development; and regional cooperation and policy coordination for Africa's development in a fast changing world.
Citation
"United Nations. Economic Commission for Africa (2017-01). Harnessing demographic dividend through investment in the youth. Addis Ababa:. © UN. ECA,. "
Related items
Showing items related by title, author, creator and subject.