African social development index (ASDI): measuring human exclusion for structural transformation: East Africa report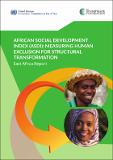 Date
2016-09
Author(s)/Corporate Author (s)
United Nations. Economic Commission for Africa. Social Development Policy Division. Employment and Social Protection Section;

Résumé
African countries have experienced unprecedented economic growth since the early 2000s, and shown strong resilience to the global downturn affecting most of the world's economies. Growth on the continent has averaged 5 percent yearly, with some countries posting 7 to 11 percent growth in gross domestic product (GDP) in recent years. Despite this remarkable stride, member States have yet to transform their economies and achieve the level of social development witnessed in other regions. Africa has for a long time focused on economic growth, with the expectation that improvement in social development would follow. One of the reasons for such a paradox hinges on the very nature of growth– largely driven by capital-intensive sectors – with limited value addition and job creation, and unfair redistribution of economic gains. In Africa, the emergence of social development as a central plank of economic development has gained impetus. The need for an inclusive and transformative growth strategy is a clear political intent firmly expressed by African leaders, in the context of the African Union Agenda 2063 and Agenda 2030 for Sustainable Development which are anchored on the principles of equality, sustainability and "leaving no-one behind".
Citation
"United Nations. Economic Commission for Africa. Social Development Policy Division. Employment and Social Protection Section (2016-09). African social development index (ASDI): measuring human exclusion for structural transformation: East Africa report. Addis Ababa:. © UN. ECA,. "
Related items
Showing items related by title, author, creator and subject.
Indice africain de développement social indice africain de développement social (IADS): mesure de l'exclusion humaine dans une optique de transformation structurelle

Nations Unies. Commission Economique pour l'Afrique. Division des politiques de développement social. Section de l'emploi et de la protection sociale; Nations Unies. Commission Economique pour l'Afrique. Division des politiques de développement social. Section de l'emploi et de la protection sociale

"Nations Unies. Commission Economique pour l'Afrique. Division des politiques de développement social. Section de l'emploi et de la protection sociale; Nations Unies. Commission Economique pour l'Afrique. Division des politiques de développement social. Section de l'emploi et de la protection sociale (2017-11). Indice africain de développement social indice africain de développement social (IADS): mesure de l'exclusion humaine dans une optique de transformation structurelle. Addis Abeba:. © NU. CEA,. "

Background paper on the sub-theme: "ensuring healthy lives and promoting well-being for all"

United Nations. Economic Commission for Africa; United Nations. Economic and Social Council

"United Nations. Economic Commission for Africa; United Nations. Economic and Social Council (2017-05). Background paper on the sub-theme: "ensuring healthy lives and promoting well-being for all". UN. ECA Africa Regional Forum on Sustainable Development(3rd session:2017, May 17 - 19:Addis Ababa, Ethiopia). Addis Ababa. © UN. ECA. "