Gender and statistical processes: handbook for gender mainstreaming in African official statistics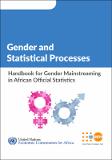 Published
2016-06
Author(s)/Corporate Author (s)
United Nations. Economic Commission for Africa;
United Nations Population Fund;

Abstract
This document explains the relationship between gender, development and statistics and makes the case for gender-related data. It also outlines some of the typical challenges faced and recommends solutions. Mainstream gender in statistics is the main part of the handbook, and provides practical guidance on changing current methods of data collection, analysis and dissemination, to ensure that the information produced accurately reflects the lives of women and men, and girls and boys. It also explains how policies could be introduced to achieve gender equality. It includes examples and case studies from around the region. It focuses on the actions to be taken at the regional and national levels. It also provides a basis for developing a practical and achievable work plan for mainstreaming gender in the collection, production and dissemination of statistics.
Citation
"United Nations. Economic Commission for Africa; United Nations Population Fund (2016-06). Gender and statistical processes: handbook for gender mainstreaming in African official statistics. Addis Ababa:. © UN. ECA,. "
Related items
Showing items related by title, author, creator and subject.
Third African population conference: conference papers

United Nations Population Fund; Organization of African Unity; African Development Bank; Government of the Republic of Senegal; United Nations. Economic Commission for Africa African Center for Statistics

"United Nations Population Fund; Organization of African Unity; African Development Bank; Government of the Republic of Senegal; United Nations. Economic Commission for Africa African Center for Statistics (1994). Third African population conference: conference papers. Conference Papers :. vol.3, iii, 230 p.. UN. ECA African Population Conference, Meeting of Experts (3rd : 1992, Dec. 11- 12 : Dakar, Senegal). Addis Ababa :. © UN.E CA,. http://hdl.handle.net/10855/2063"