Community radio for local solutions resilience and innovation in response to climate change: African climate center and developing radio partners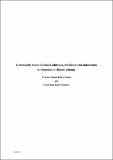 Published
2016
Author(s)/Corporate Author (s)
United Nations. Economic Commission for Africa;

Abstract
The African Climate Policy Center, through the ClimDev-Africa program, partnered with Developing Radio Partners on a pilot project to build the capacity of community radio stations and their staff regarding climate change, development and analytical reporting. The project was initiated in recognition of the fact that addressing climate change has become central to the development and poverty reduction agenda. Poorer countries and communities suffer earliest and hardest because of weaker resilience and greater reliance on climate-sensitive sectors such as agriculture. The key premise of the pilot project was that, in addition to being essential for information dissemination, the media plays a critical role in raising awareness and building capacity to better cope with the challenges of climate change, as well as the importance and benefits of climate-resilient pathways.
Citation
"United Nations. Economic Commission for Africa (2016). Community radio for local solutions resilience and innovation in response to climate change: African climate center and developing radio partners. Addis Ababa:. © UN. ECA,. "
Related items
Showing items related by title, author, creator and subject.