Greening Africa's industrialization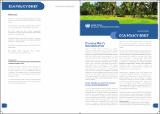 Published
2016
Author(s)/Corporate Author (s)
United Nations. Economic Commission for Africa;

Abstract
The report underscores the need for country-specific national green agendas, aligned with broad development goals. The State ought to play a pivotal role in articulating and promoting a vision beyond 2030. The involvement of a wide range of stakeholders, effective public institutions and consistent implementation are the prerequisites for mobilizing private sector resources. Investments in innovation and regional collaboration, and the establishment of best practice sharing platforms will lead to industrial greening. Institutional and human capacities should be strengthened to effectively carry out, monitor and adjust the green growth agenda to reflect emerging realities.
Citation
"United Nations. Economic Commission for Africa (2016). Greening Africa's industrialization. ECA Policy Brief. No. ECA/17/002, 6 p.. Addis Ababa:. © UN. ECA,. "
Serial Title
ECA Policy Brief
Related items
Showing items related by title, author, creator and subject.
Document de synthèse thème: l'industrialisation au service du développement inclusif et de la transformation en Afrique

Nations Unies. Commission Economique pour l'Afrique

"Nations Unies. Commission Economique pour l'Afrique (2014-03). Document de synthèse thème: l'industrialisation au service du développement inclusif et de la transformation en Afrique. NU. CEA réunion annuelle conjointe de la Conférence des ministres africains des finances, de la planification et du développement économique de la Commission économique pour l'Afrique et de la Conférence des ministres de l'économie et des finances de l'Union africaine (7ème: 2014, mar. 29-30 : Abuja, Nigéria); NU. CEA (47ème Session: 2014, mar. 29-30: Abuja, Nigéria); NU. CEA Conférence des ministres africains de l'économie et des finances(9ème Session: 2014, mar. 29-30 : Abuja, Nigéria). Addis Abeba :. © NU. CEA,. http://hdl.handle.net/10855/22206"