COP 22 Africa pavilion concept note: theme implementing the Paris agreement for sustainable development in Africa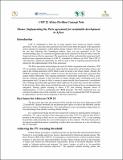 Published
2016
Author(s)/Corporate Author (s)
United Nations. Economic Commission for Africa;
African Development Bank;

Abstract
The Paris agreement acknowledges the need for further negotiation and refinement. COP 22 is accordingly significant as the place where the Paris framework will be further refined, and gaps in the existing agreement will be filled in order to ensure a safe future climate. This ongoing negotiation is particularly important for Africa, given that the continent continues to bear the brunt of climate change while contributing least to the phenomenon itself. It is thus in Africa's interest to ensure that the Paris framework is consolidated into a binding and enforceable agreement which addresses the issues that concern the continent. The Africa pavilion has developed into an important space for the discussion of key issues in the COP that are facing the continent. It has also come to constitute an important emotional and social space for networking, knowledge and information sharing, as well as capacity building among the different African delegations at the COP.
Citation
"United Nations. Economic Commission for Africa; African Development Bank (2016). COP 22 Africa pavilion concept note: theme implementing the Paris agreement for sustainable development in Africa. Addis Ababa:. © UN. ECA,. "
Related items
Showing items related by title, author, creator and subject.