Acting on climate change for sustainable development in Africa: challenges, opportunities and policy options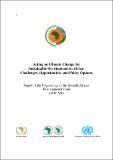 Published
2010
Author(s)/Corporate Author (s)
United Nations. Economic Commission for Africa;
African Union Commission;
African Development Bank;

Abstract
The African Development Forum VII, as the Forum attempted to cover the many important aspects of life in Africa that are and will be affected by a changing climate. The Forum sought to raise awareness of the need for action in proportion to the rapidly expanding problem. Its goal was to reach consensus on a development agenda drawn up by Africans for Africa. The ADF-VII comes at an important time. Africa is developing and there is a great need for full integration of climate change considerations to ensure that the development is sustainable. Climate change is already making its impacts felt and there is growing concern that its full significance for development in Africa is not yet sufficiently appreciated, especially by politicians and decision makers. Climate change is not an environmental 'fashion': it will not go away but will become increasingly important in all walks of African life–until long after developed economies reign in their greenhouse gas emissions. As the Forum showed, a more hostile climate will affect all people, all countries and all livelihoods and cannot be ignored. The Consensus statement confirmed the topic's utmost importance. It conveyed the diverse concerns of the many participants, strengthened the African common position on climate change, and challenged Africa's leadership to respond with appropriately scaled policies, planning and practices.
Citation
"United Nations. Economic Commission for Africa; African Union Commission; African Development Bank (2010). Acting on climate change for sustainable development in Africa: challenges, opportunities and policy options. UN. ECA African Development Forum(7th :2010, Oct. 10-15 :Addis Ababa, Ethiopia). Addis Ababa:. © UN. ECA,. "
Conference
UN. ECA African Development Forum(7th :2010, Oct. 10-15 :Addis Ababa, Ethiopia)
Related items
Showing items related by title, author, creator and subject.