Enhancing food security in the eastern African sub-region: issues paper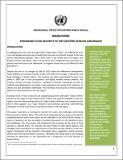 Published
2016
Author(s)/Corporate Author (s)
United Nations. Economic Commission for Africa. Sub regional office for Eastern Africa;

Abstract
This paper represents an attempt to identify the issues and challenges confronting food security in Eastern Africa. This will not be exhaustive by any means and shall be complemented by other views which will be identified in the course of the meeting. A series of questions are also provided to facilitate discussions on the identified issues and challenges. The issues paper will complement the overview on the state of food security in Eastern Africa. An attempt has been made to offer policy options and strategies that could lead to an improvement of the food security situation in the sub region. Participants will be invited to interrogate these suggestions and/or propose others that could lead to better outcomes. Ultimately this would lead to the meeting reaching an agreement on the framework for a Program on Food Security in Eastern Africa.
Citation
"United Nations. Economic Commission for Africa. Sub regional office for Eastern Africa (2016). Enhancing food security in the eastern African sub-region: issues paper. Addis Ababa. © UN.ECA. "
Collections
Related items
Showing items related by title, author, creator and subject.