Optimizing domestic revenue mobilization and value addition of Africa's minerals: towards harmonizing fiscal regimes in the mineral sector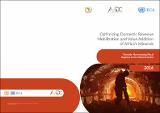 Published
2016-11
Author(s)/Corporate Author (s)
United Nations. Economic Commission for Africa;
African Union Commission;

Abstract
The report presents different options for harmonization and their implications for supporting domestic revenue mobilization and regional value chains. The report reviews experiences from other countries and regions, with view to identifying good practices for designing and implementing effective fiscal regimes in Africa. While some progress has been made in harmonizing policy and regulatory frameworks in the mineral sector, the report argues that fiscal regimes along the mineral value chain on the continent remain incoherent, inconsistent and patchy. The choice of regimes, the design and types of instruments employed and their implementation constrain opportunities for greater domestic revenue mobilization as well as the emergence of viable regional value chains in Africa for the structural transformation of economies. The report concludes that there is no one-size-fits-all approach: harmonization is not equal to uniformization. Each country is unique in terms of mineral endowment, political economy, history and social context. Fiscal harmonization experiences across countries are dynamic, multidimensional and multi-scale.
Citation
"United Nations. Economic Commission for Africa; African Union Commission (2016-11). Optimizing domestic revenue mobilization and value addition of Africa's minerals: towards harmonizing fiscal regimes in the mineral sector. Addis Ababa:. © UN. ECA,. "
Collections
Related items
Showing items related by title, author, creator and subject.