Declaration on land issues and challenges in Africa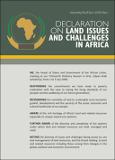 Date
2016
Author(s)/Corporate Author (s)
United Nations. Economic Commission for Africa;

Résumé
The Heads of States and Government of the African Union in collaboration with UNECA and AfDB, to carry out studies on the establishment of an appropriate institutional framework that can support Member States in their efforts towards reviewing, developing and implementing land policies including mechanisms for progress tracking and reporting, as well as for the establishment of an African Fund for Land Policy.
Citation
"United Nations. Economic Commission for Africa (2016). Declaration on land issues and challenges in Africa. Addis Ababa:. © UN. ECA,. "
Related items
Showing items related by title, author, creator and subject.
Projet d'éléments pour un plan stratégique quinquennal et une feuille de route de l'initiative sur les politiques foncières (2012‐2016)

Banque africaine de développement; Commission de l'Union Africaine; Nations Unies. Commission Economique pour l'Afrique; Banque africaine de développement; Commission de l'Union Africaine; Nations Unies. Commission Economique pour l'Afrique

"Banque africaine de développement; Commission de l'Union Africaine; Nations Unies. Commission Economique pour l'Afrique; Banque africaine de développement; Commission de l'Union Africaine; Nations Unies. Commission Economique pour l'Afrique (2012). Projet d'éléments pour un plan stratégique quinquennal et une feuille de route de l'initiative sur les politiques foncières (2012‐2016). "

Guidelines for the development of curricula on land governance in Africa

United Nations. Economic Commission for Africa; African Union Commission; African Development Bank

"United Nations. Economic Commission for Africa; African Union Commission; African Development Bank (2017). Guidelines for the development of curricula on land governance in Africa. Addis Ababa. © UN. ECA. "

Déclaration sur les problèmes et enjeux fonciers en Afrique

Nations Unies. Commission Economique pour l'Afrique; Commission de l'Union Africaine; Nations Unies. Commission Economique pour l'Afrique; Commission de l'Union Africaine

"Nations Unies. Commission Economique pour l'Afrique; Commission de l'Union Africaine; Nations Unies. Commission Economique pour l'Afrique; Commission de l'Union Africaine (2016). Déclaration sur les problèmes et enjeux fonciers en Afrique. Addis Abeba:. © NU. CEA,. "