Industrializing through trade: trade as a catalyst for Africa's structural transformation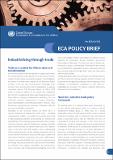 Published
2016
Author(s)/Corporate Author (s)
United Nations. Economic Commission for Africa;

Abstract
The Economic Report on Africa 2015 builds on previous editions of the report that emphasized the need for developmental States and development plans to foster Africa's structural transformation, benefiting from the continent's resource endowments to promote commodity based industrialization, and embracing dynamic industrial policy frameworks underpinned by innovative institutions, effective processes and flexible mechanisms. According to the Economic Report on Africa 2015, a properly designed and implemented trade policy – alongside complementary policies – is essential to promoting investment in high productivity activities and launching an economy into industrial take-off. Accelerating structural transformation requires coherence between national development strategy and trade policy on the one hand, and between trade policy and industrial policy on the other hand. This requires a deep understanding of the market structure and the possible interactions of firms on the continent.
Citation
"United Nations. Economic Commission for Africa (2016). Industrializing through trade: trade as a catalyst for Africa's structural transformation. Addis Ababa. © UN.ECA. https://hdl.handle.net/10855/23470"
Serial Title
ECA policy brief
Related items
Showing items related by title, author, creator and subject.