Highlight on the "future risks and opportunities for adaptation in Africa" from the summary of the IPCC AR5 WGII for the policymaker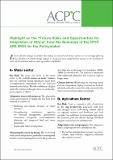 Published
2015
Author(s)/Corporate Author (s)
United Nations. Economic Commission for Africa. Special Initiatives Division. African Climate Policy Center;

Abstract
In recent decades, changes in climate that impact on natural and human systems are increasingly affecting Africa. Evidence of climate-change impacts is strong and more comprehensive mainly in the development sectors of the continent such as water, agriculture and health. The main risk factor in the water sector is the multiple stresses on water resources that are currently facing significant strain from over-exploitation, degradation and the increased demand in the future. There is currently a risk of reduction in the crop productivity associated with heat and drought stress, with strong adverse effects on regional, national, and livelihood and food security. The risk factors in the health sector mainly originated from the changes in the incidence and geographic range of vector and water-borne diseases due to the changes in the mean and variability of temperature and precipitation, particularly along the edges of their distribution (medium confidence).
Citation
"United Nations. Economic Commission for Africa. Special Initiatives Division. African Climate Policy Center (2015). Highlight on the "future risks and opportunities for adaptation in Africa" from the summary of the IPCC AR5 WGII for the policymaker. Addis Ababa:. © UN. ECA,. "
Related items
Showing items related by title, author, creator and subject.