Broadening the participation of the local private sector in Africa's construction and energy sectors through modern industrial policy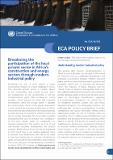 Published
2016
Author(s)/Corporate Author (s)
United Nations. Economic Commission for Africa;

Abstract
Expanding the role of local players in major infrastructure projects is a major challenge in Africa. The domestic private sector is notably absent in the construction and energy sectors, which are fundamental to the achievement of Africa's transformational goals. The construction sector provides critical support for social and economic development, while the energy sector is arguably the infrastructure sector where private investment is most needed for industrial development in Africa. Interventionist industrial policies are needed not only to boost the level of investment in these sectors, but also to lay the foundation for the growth of private entrepreneurship and to enhance the contribution of the local private sector to sustainable and inclusive development.
Citation
"United Nations. Economic Commission for Africa (2016). Broadening the participation of the local private sector in Africa's construction and energy sectors through modern industrial policy. ECA policy brief. ECA/16/102, 4 p.. Addis Ababa:. © UN. ECA,. https://hdl.handle.net/10855/23437"
Serial Title
ECA policy brief
Related items
Showing items related by title, author, creator and subject.