South-South and Triangular Cooperation and its implications for the Eastern Africa sub-region:report for the UN Economic Commission for Africa – Subregional office for Eastern Africa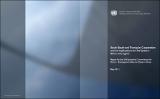 Published
2011-05
Author(s)/Corporate Author (s)
United Nations. Economic Commission for Africa. Subregional Office East Africa (SRO-EA);

Abstract
South-South and Triangular Cooperation are notable features on the landscape of the region. Driven by the opportunities that the continent presents, new Southern emerging powers (from China to Saudi Arabia) are accelerating their engagement in east Africa. This report is an attempt to define SSC and the newer term of triangular cooperation (TC) for Eastern African states, to examine the nature of these two types of cooperation, to present case studies of examples where SSC and TC have worked well, to make some recommendations on how Eastern African states can reap the benefits of SSC and T C and what to guard against when seeking out SSC and TC. The report is based on an extensive literature review, a field trip to Eastern African states, interviews with the diplomatic community in South Africa, telephonic interviews as well as email communication with various role-players, stakeholders and experts on SSC and TC.
Citation
"United Nations. Economic Commission for Africa. Subregional Office East Africa (SRO-EA) (2011-05). South-South and Triangular Cooperation and its implications for the Eastern Africa sub-region:report for the UN Economic Commission for Africa – Subregional office for Eastern Africa. Addis Ababa:. © UN. ECA,. "
Collections
Related items
Showing items related by title, author, creator and subject.