Elements of a 5‐year LPI strategic plan and roadmap (2012‐2016)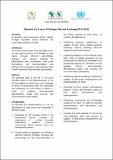 Published
2012
Author(s)/Corporate Author (s)
African Development Bank;
African Union Commission;
United Nations. Economic Commission for Africa;

Abstract
The principle goal of the LPI is "to assist member states in the implementation of the AU Declaration on land Issues and challenges in Africa, in accordance with the Framework and Guidelines on Land Policy in Africa, in order to achieve socioeconomic development, peace and security, and environmental sustainability".To facilitate the implementation of the AU Declaration of Land Issues and Challenges in Africa through: Advocating for the inclusion of land in the development agenda, strategies and programs of African tripartite organizations, Regional Economic Communities, African Member States and development partners; Coordinating and galvanize the efforts of partners towards effective synergies and partnerships for the implementation of the African agenda on Land Policy, as stated in the Declaration .
Citation
"African Development Bank; African Union Commission; United Nations. Economic Commission for Africa (2012). Elements of a 5‐year LPI strategic plan and roadmap (2012‐2016). Addis Ababa:. © UN. ECA,. "
Related items
Showing items related by title, author, creator and subject.