Synthesis report harmonising APRM-NPoAs and other national plans into a common medium term expenditure framework: experiences from Ghana, Rwanda, Uganda, and Benin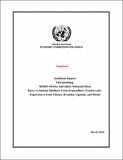 Published
2010-03
Author(s)/Corporate Author (s)
United Nations. Economic Commission for Africa;

Abstract
The African Peer Review Mechanism (APRM), Under its auspices each undertook what was almost certainly the most rigorous assessment of the performance of national institutions in the areas of: democracy and political governance, economic governance and management, corporate governance, and socio-economic development. The findings from these assessments then became the basis of the production of a National Program of Action (NPoA) intended to address the challenges discovered during the self-assessment. These two documents, together with independent research conducted by the Continental Secretariat of the APRM fed into a Country Review Report prepared by the Secretariat. These documents were then presented to the APRM Forum, the grouping of African Heads of State whose counties had acceded to the APRM, for discussion by heads of state of countries participating in the APRM. The Peer Review of Africa countries accordingly became the highlight and focal point of the process of the APRM.
Citation
"United Nations. Economic Commission for Africa (2010-03). Synthesis report harmonising APRM-NPoAs and other national plans into a common medium term expenditure framework: experiences from Ghana, Rwanda, Uganda, and Benin. Addis Ababa:. © UN. ECA,. "
Related items
Showing items related by title, author, creator and subject.
Administration for development

United Nations. Economic Commission for Africa. Public Administration Section; United Nations. Economic Commission for Africa; United Nations

"United Nations. Economic Commission for Africa. Public Administration Section; United Nations. Economic Commission for Africa; United Nations (1971). Administration for development. [Addis Ababa] :. © UN. ECA,. http://hdl.handle.net/10855/14951"

La privatisation des entreprises publiques: les leçons des expériences africaines

Nations Unies. Commission Economique pour l'Afrique. Division de l'administration publique, des resources humaines et du développement social

"Mostafa, Rhomari; Nations Unies. Commission Economique pour l'Afrique. Division de l'administration publique, des resources humaines et du développement social (1993). La privatisation des entreprises publiques: les leçons des expériences africaines. NU. CEA Conférence Régionale sur la Gestion du Développement en Afrique: Trente années d'expérience, les nouveaux défis et les priorités futures (1993, mars 8 - 12 : Addis Abeba, Ethiopie).. Addis Abeba :. © NU. CEA,. http://hdl.handle.net/10855/3859"