Working document on the new development indicators reflecting the realities, needs and priorities in monitoring human and social development in African beyond 2015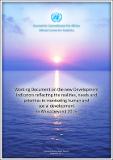 Published
2012-12
Author(s)/Corporate Author (s)
United Nations. Economic Commission for Africa. African Centre for Statistics;

Abstract
The year 2015 is also a year of transition as it marks the end of twenty-five years of monitoring progress in human development and the beginning of a new phase in this respect. As a result, the reference period for the new set of development objectives should be established and become effective around 2015, and it is crucial to request countries to undertake their major surveys at that time. The major aim of this document is to develop a set of development indicators in line with the realities, needs and priorities beyond 2015. This approach will also ensure that Africa participates effectively in the design and development of the agreed international development indicators beyond 2015. This document will also enhance the capacity of the member States to tackle the challenges in the collection, compilation, dissemination and utilization of data on the new indicators that address the development priorities of African countries beyond 2015.
Citation
"United Nations. Economic Commission for Africa. African Centre for Statistics (2012-12). Working document on the new development indicators reflecting the realities, needs and priorities in monitoring human and social development in African beyond 2015. Statistics Working Paper Series. No. 08, vii, 68 p.. Addis Ababa:. © UN. ECA,. https://hdl.handle.net/10855/23395"
Serial Title
Statistics Working Paper Series
Related items
Showing items related by title, author, creator and subject.