African statistical yearbook 2010 = Annuaire statistique pour l'Afrique 2010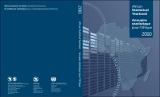 Published
2010
Author(s)/Corporate Author (s)
African Development Bank;
United Nations. Economic Commission for Africa;
African Union Commission;

Abstract
The African Statistical Yearbook 2010 is published at a moment of great uncertainty for the world economy. The global crisis which started about two years ago, spread from the financial system to the real economy, jeopardizing the gains observed in terms of both production and income in most African countries during the pre-2007 period. If the crisis continues to deepen and widen, or if it is prolonged, other indicators of development like enrollment rates, employment of women, and infant mortality will be affected, compromising poverty reduction efforts and by the same token the attainment of the Millennium Development Goals. The data in this issue of the Yearbook cover the period from 2001 to 2009, or up until the last year for which data are available. There are two parts to this volume: a set of summary tables followed by a set of country profiles. The summary tables are presented by selected sectors. Each table presents indicators for all African countries for comparison purposes. The indicators are grouped in nine main sectors.
Citation
"African Development Bank; United Nations. Economic Commission for Africa; African Union Commission (2010). African statistical yearbook 2010 = Annuaire statistique pour l'Afrique 2010. Addis Ababa:. © UN. ECA,. "
Related items
Showing items related by title, author, creator and subject.
Data sharing among the African Union Commission, the Economic Commission for Africa and the African Development Bank

United Nations. Economic Commission for Africa; African Union Commission; United Nations. Economic and Social Council

"United Nations. Economic Commission for Africa; African Union Commission; United Nations. Economic and Social Council (2016-11). Data sharing among the African Union Commission, the Economic Commission for Africa and the African Development Bank. UN. ECA Statistical Commission for Africa Meeting(5th session :2016, 28 November-2 December :Abidjan, Côte d'Ivoire); UN. ECA Committee of Directors General of National Statistics Offices(10th session :2016, 28 November-2 December :Abidjan, Côte d'Ivoire). Addis Ababa:. © UN. ECA,. "