Assessing progress in Africa towards the Millennium Development Goals, 2012 : emerging perspectives from Africa on the post-2015 development agenda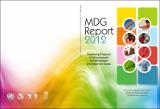 Published
2012
Author(s)/Corporate Author (s)
United Nations. Economic Commission for Africa;
African Development Bank;
United Nations Development Programme;
African Union Commission;

Abstract
This year's Assessing Progress in Africa towards the Millennium Development Goals is based on the latest updated and harmonized data from United Nations Statistics Division (UNSD) – the official repository of data for assessing progress towards the MDGs. The findings of this year's report confirm that steady economic growth and improvements in poverty reduction on the continent continue to have a positive impact on MDG progress. Africa has sustained progress toward several MDGs and is on track to achieve the targets of: universal primary education; gender parity at all levels of education; lower HIV/AIDS prevalence among 15-24 year old; increased proportion of the population with access to anti retro viral drugs; and increased proportion of seats held by women in national parliament by 2015.
Citation
"United Nations. Economic Commission for Africa; African Development Bank; United Nations Development Programme; African Union Commission (2012). Assessing progress in Africa towards the Millennium Development Goals, 2012 : emerging perspectives from Africa on the post-2015 development agenda. Addis Ababa:. © UN. ECA,. "
Related items
Showing items related by title, author, creator and subject.