Recent economic and social developments in West Africa and prospects for 2012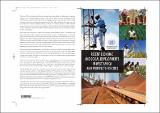 Published
2013
Author(s)/Corporate Author (s)
United Nations. Economic Commission for Africa;

Abstract
Global output growth slowed down in 2011, and recent forecasts for 2012 and 2013 show anemic growth for different regions of the world due to the continuing economic fallout in the Euro zone. Due to trade, financial and resource flow interdependence the developing countries have not been immune from developed countries' economic crisis, dimming the growth prospects for 2012 and beyond. The detailed analysis of the macroeconomic conditions in various West African countries shows mixed prospects for 2012. In fact, the subregional growth rate was projected to be sustained at above 6 per cent before the Mali and Guinea turmoil, as well as the deepening drought and the concomitant humanitarian disaster in the Sahel region. The subregion continued to make progress towards strengthening regional integration. The countries have to adhere to a set of convergence criteria that will allow them to deepen their economic integration. The report will unpack these messages in its analysis and provide recommendations that, on the whole, can concretely bring the long desired development to West Africa.
Citation
"United Nations. Economic Commission for Africa (2013). Recent economic and social developments in West Africa and prospects for 2012. Addis Ababa:. © UN. ECA,. "
Collections
Related items
Showing items related by title, author, creator and subject.
Fourteenth meeting of the conference of African ministers of industry: report

United Nations. Economic and Social Council; Organization of African Unity; United Nations. Economic Commission for Africa; United Nations. Industrial Development Organization

"United Nations. Economic and Social Council; Organization of African Unity; United Nations. Economic Commission for Africa; United Nations. Industrial Development Organization (1999-11). Fourteenth meeting of the conference of African ministers of industry: report. UN.ECA Conference of African Ministers of Industry (14th: 1999, October 22-23 : Dakar, Senegal). Addis Ababa:. © UN. ECA,. http://hdl.handle.net/10855/1835"

Draft introduction to the medium term plan beginning 1992

United Nations. Economic and Social Council; United Nations. Economic Commission for Africa

"United Nations. Economic and Social Council; United Nations. Economic Commission for Africa (1989-08). Draft introduction to the medium term plan beginning 1992. UN. ECA Ad Hoc Committee on the Draft Medium-Term Plan, 1992-1997 Meeting. (1989: Oct. 9 - 11 : Addis Ababa, Ethiopia). Addis Ababa. © UN. ECA. http://hdl.handle.net/10855/20747"