Guidelines for enhancing coordination of RCM cluster and sub-cluster activities: a compilation of programming tools for better results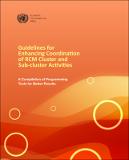 Published
2016
Author(s)/Corporate Author (s)
United Nations. Economic Commission for Africa;

Abstract
The objective of this manual is to assist the Secretariat, clusters, and sub-clusters of the Regional Coordination Mechanism for Africa (RCM-Africa) in reporting credibly on the results of their activities. It provides simple guidelines for articulating realistic objectives and expected accomplishments as well as for using performance indicators in monitoring the extent to which these objectives and expected accomplishments are met. The need for guidelines to assist clusters in this regard can therefore not be overemphasized. An option for addressing crosscutting issues is to have separate clusters or sub-clusters dealing with them. Another option is to mainstream crosscutting issues in the work of all clusters. RCM-Africa has adopted a twin-approach whereby crosscutting issues belong to specific clusters or sub clusters (for example Gender and Development is a sub-cluster of the Social and Human Development Cluster), while at the same time they are mainstreamed in the work of other clusters. Guidelines are therefore essential for effective mainstreaming of crosscutting issues.
Citation
"United Nations. Economic Commission for Africa (2016). Guidelines for enhancing coordination of RCM cluster and sub-cluster activities: a compilation of programming tools for better results. Addis Ababa,. © UN. ECA,. "
Collections
Related items
Showing items related by title, author, creator and subject.
Draft resolution

United Nations. Economic and Social Council; United Nations. Economic Commission for Africa

"United Nations. Economic and Social Council; United Nations. Economic Commission for Africa (1969-02). Draft resolution. UN. ECA (9th Session : 1969, Feb. 3- 14 : Addis Ababa, Ethiopia).. Addis Ababa :. © UN. ECA,. http://hdl.handle.net/10855/16024"