African Development Week 2016: Roundup- day 3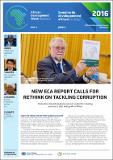 Published
2016
Author(s)/Corporate Author (s)
United Nations. Economic Commission for Africa;

Abstract
Perception-Based measures have been influential in determining levels of corruption on the continent. However, the African Governance Review report, argues that such measures misrepresent realities in Africa and are misguiding policymakers and investors. The report argues that "corruption measurements are only useful for raising awareness as opposed to policy-making, given the difficulty of measuring it precisely". It continues, "Most data on corruption would not be useful for policymakers in Africa, because the focus is on peoples' attitude towards the prevalence of corruption and not the nature of the act or its exact magnitude." The report says it's essential to rethink the conceptual understanding and measurements of corruption and, given the flaws in individual approaches, advises looking at a range of different approaches to monitor tangible developments and create viable anti-corruption strategies.
Citation
"United Nations. Economic Commission for Africa (2016). African Development Week 2016: Roundup- day 3. Addis Ababa:. © UN. ECA,. "
Related items
Showing items related by title, author, creator and subject.
Administration for development

United Nations. Economic Commission for Africa. Public Administration Section; United Nations. Economic Commission for Africa; United Nations

"United Nations. Economic Commission for Africa. Public Administration Section; United Nations. Economic Commission for Africa; United Nations (1971). Administration for development. [Addis Ababa] :. © UN. ECA,. http://hdl.handle.net/10855/14951"

La privatisation des entreprises publiques: les leçons des expériences africaines

Nations Unies. Commission Economique pour l'Afrique. Division de l'administration publique, des resources humaines et du développement social

"Mostafa, Rhomari; Nations Unies. Commission Economique pour l'Afrique. Division de l'administration publique, des resources humaines et du développement social (1993). La privatisation des entreprises publiques: les leçons des expériences africaines. NU. CEA Conférence Régionale sur la Gestion du Développement en Afrique: Trente années d'expérience, les nouveaux défis et les priorités futures (1993, mars 8 - 12 : Addis Abeba, Ethiopie).. Addis Abeba :. © NU. CEA,. http://hdl.handle.net/10855/3859"