Assessment report on mainstreaming and implementing disaster risk reduction measures in Malawi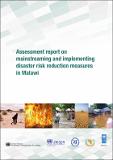 Published
2015-09
Author(s)/Corporate Author (s)
United Nations. Economic Commission for Africa;

Abstract
This assessment report on mainstreaming and implementing disaster risk reduction (DRR) measures in Malawi was prepared within the framework of the United Nations Development Account (UNDA) project on mainstreaming disaster risk reduction in national and regional development strategies in support of both efforts to meet the Millennium Development Goals and the attainment of sustainable development goals in Africa. This report presents findings on the assessment of the progress and experiences in mainstreaming the planning and implementation of DRR measures as part of national development strategies, plans and programs in Malawi. The report provided input into preparing the sub regional assessment report. It also served as a key resource for the sub regional DRR capacity development workshop, which among others showcased and promoted good practices to scale up the mainstreaming and implementation of DDR measures as part of development frameworks.
Citation
"United Nations. Economic Commission for Africa (2015-09). Assessment report on mainstreaming and implementing disaster risk reduction measures in Malawi. Addis Ababa:. © UN. ECA,. "
Related items
Showing items related by title, author, creator and subject.
Report of the regional meeting on natural disaster prevention and preparedness in Africa

United Nations. Economic and Social Council; United Nations. Economic Commission for Africa

"United Nations. Economic and Social Council; United Nations. Economic Commission for Africa (1984-02). Report of the regional meeting on natural disaster prevention and preparedness in Africa. UN. ECA Technical Preparatory Committee on the Whole meeting (5th : 1984, May 15 - 21 : Addis Ababa, Ethiopia); UN. ECA Conference of Ministers Meeting (10th : 1984, Apr. 24-28 : Addis Ababa, Ethiopia); UN. ECA (19th session: 1984, May 26-30 : Addis Ababa, Ethiopia). Addis Ababa :. © UN. ECA,. http://hdl.handle.net/10855/9457"