Enhancing water resource management through an inclusive green economy approach: the case of Lake Victoria Basin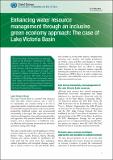 Published
2016
Author(s)/Corporate Author (s)
United Nations. Economic Commission for Africa;

Abstract
The Lake Victoria Basin is endowed with abundant water and other natural resources, and is vital to its communities and countries owing to its role in supporting valuable ecosystems and economic activities. Its sustainable management and use underpins economic productivity, livelihood systems and environmental sustainability in the region. This requires the continual adoption and integration of new and emerging principles and approaches that produce desirable outcomes and impacts, such as improvements in livelihoods, water use efficiency and ecosystem productivity for electricity generation, among other things. The present policy brief draws from an upcoming report by the Economic Commission for Africa (ECA), informed by a survey of nine selected projects in the Lake Victoria Basin complemented with literature, which has established that applying inclusive green economy-related principles and approaches enhances the outcomes of water resource management objectives. This policy brief provides a synthesis of the findings and recommends, among other things, the development and implementation of an inclusive green economy strategy or framework for water resource management in the Basin under the Lake Victoria Basin Commission.
Citation
"United Nations. Economic Commission for Africa (2016). Enhancing water resource management through an inclusive green economy approach: the case of Lake Victoria Basin. ECA Policy Brief. No. 010, 3 p.. Addis Ababa:. © UN. ECA,. https://hdl.handle.net/10855/23296"
Serial Title
ECA Policy Brief
Related items
Showing items related by title, author, creator and subject.