Achieving sustainable development in Africa through inclusive green growth: leveraging the industrial sector's potential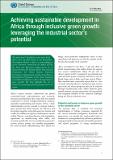 Published
2016
Abstract
Africa's natural resources endowment can propel commodity-based industrialization and economic structural transformation that could shift the sectoral composition in favor of high-productivity activities, especially manufacturing and modern services. Such industrialization can be oriented to promote inclusive green growth that fosters resource use efficiency and ecosystems integrity, creates jobs, generates income and wealth, lifts millions out of poverty and improves human welfare. Inclusive green growth presents a unique opportunity to bring multiple and integrated solutions to the numerous challenges facing the African industrial sector. The brief highlights the role of industry in promoting inclusive green growth in the region.
Citation
"(2016). Achieving sustainable development in Africa through inclusive green growth: leveraging the industrial sector's potential. ECA Policy Brief. No. 005, 3 p.. Addis Ababa:. © UN. ECA,. "
Serial Title
ECA Policy Brief
Related items
Showing items related by title, author, creator and subject.