Achieving sustainable development in Africa through inclusive green growth: leveraging the energy sector's potential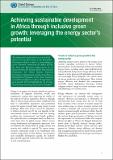 Published
2016
Author(s)/Corporate Author (s)
United Nations. Economic Commission for Africa;

Abstract
Energy is an engine of economic growth and poverty eradication. It supports businesses, wealth and employment creation, thus improving the welfare of the majority of Africa's population. However, although Africa is rich in energy resources, from traditional fossil fuels to underutilized hydropower and geothermal power, the region currently faces many energy-related challenges. More than 75 per cent of the population is without electricity and 81 per cent depends on the unsustainable harvest of biomass fuels for cooking, resulting into environmental and health problems. Per capita electricity consumption levels in Africa are much lower than the global average. Africa's current energy development and deployment approaches have not delivered the desired level of energy services and security, and a rethink is required. The region's energy resources endowment needs to be transformed into modern energy forms to drive Africa's transformation and sustainable development agenda. An inclusive green growth approach could ensure the sustainability of such a transformation.
Citation
"United Nations. Economic Commission for Africa (2016). Achieving sustainable development in Africa through inclusive green growth: leveraging the energy sector's potential. ECA Policy Brief. No. 004, 3 p.. Addis Ababa. © UN. ECA. https://hdl.handle.net/10855/23284"
Serial Title
ECA Policy Brief
Related items
Showing items related by title, author, creator and subject.
Note conceptuelle: Atelier de partage de connaissances et de partenariat dans le cadre des forums régionaux sur l'évolution probable du climat

Nations Unies. Commission Economique pour l'Afrique; Nations Unies. Commission Economique pour l'Afrique. Division des initiatives spéciales. Centre africain pour les politiques en matière de climat; Nations Unies. Commission Economique pour l'Afrique; Nations Unies. Commission Economique pour l'Afrique. Division des initiatives spéciales. Centre africain pour les politiques en matière de climat

"Nations Unies. Commission Economique pour l'Afrique; Nations Unies. Commission Economique pour l'Afrique. Division des initiatives spéciales. Centre africain pour les politiques en matière de climat; Nations Unies. Commission Economique pour l'Afrique; Nations Unies. Commission Economique pour l'Afrique. Division des initiatives spéciales. Centre africain pour les politiques en matière de climat (2018-05). Note conceptuelle: Atelier de partage de connaissances et de partenariat dans le cadre des forums régionaux sur l'évolution probable du climat. NU. CEA Atelier de partage de connaissances et de partenariat dans le cadre des forums régionaux sur l'évolution probable du climat (2018, 13-14 mai.: Djibouti, Djibouti). Addis Abeba. © NU. CEA. https://hdl.handle.net/10855/24521"