Achieving sustainable development in Africa through inclusive green growth: leveraging the agriculture sector's potential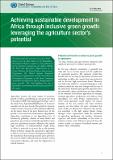 Date
2016
Author(s)/Corporate Author (s)
United Nations. Economic Commission for Africa;

Résumé
Agriculture remains the main engine of economic growth in Africa, contributing an average of one-third of the region's GDP and employing about 70 per cent of the labour force. Agricultural GDP grew at 3.3 per cent annually over the past decade. The growth is, however, neither inclusive nor green, as African farmers still make up the largest share of the poor. Indeed, most of this growth is associated with environmental degradation. Agriculture contributes to soil degradation, loss of biodiversity, pollution, siltation of water bodies and greenhouse gas emissions, mainly through deforestation and poor agricultural practices. Moreover, the already high proportion of undernourished people living in Africa is projected to increase due to the growing threats of climate change. The crucial role of agriculture in Africa's social and economic development underlines the importance of promoting inclusive green growth in the sector in order to enhance food security, job creation and poverty reduction, and stem the degradation of natural resources.
Citation
"United Nations. Economic Commission for Africa (2016). Achieving sustainable development in Africa through inclusive green growth: leveraging the agriculture sector's potential. ECA Policy Brief. No. 002, 3 p.. Addis Ababa. © UN. ECA. "
Serial Title
ECA Policy Brief
Related items
Showing items related by title, author, creator and subject.
An assessment of Tanzania's agricultural production, climate change, agricultural trade and food security

United Nations. Economic Commission for Africa

"S.D., Tumbo; Mahoo, H.F; Mutabazi, K.D; Kahimba, F.C.; Kadigi, I.L; T., Mnimbo; United Nations. Economic Commission for Africa (2017). An assessment of Tanzania's agricultural production, climate change, agricultural trade and food security. KIPPRA Working Paper. No. 22, xi, 54 p.. Addis Ababa. © UN. ECA. "