Achieving sustainable development in Africa through inclusive green growth: the role of ecosystem goods and services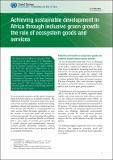 Published
2016
Author(s)/Corporate Author (s)
United Nations. Economic Commission for Africa;

Abstract
Ecosystem goods and services are the benefits that people obtain from both natural and modified ecosystems. From disaster risk reduction to energy generation to water security, Africa has ample opportunity to seize the benefits of ecosystems goods and services for inclusive green growth. Harnessing ecosystems services, therefore, would spur inclusive green growth and lead to sustainable development. In order to realize the vast potential for ecosystem goods and services-based inclusive growth, countries will have to address the challenges confronting them and seize a large number of existing and emerging opportunities.
Citation
"United Nations. Economic Commission for Africa (2016). Achieving sustainable development in Africa through inclusive green growth: the role of ecosystem goods and services. ECA Policy Brief. No. 003, 3 p.. Addis Ababa. © UN. ECA. https://hdl.handle.net/10855/23276"
Serial Title
ECA Policy Brief
Related items
Showing items related by title, author, creator and subject.
Note conceptuelle: Atelier de partage de connaissances et de partenariat dans le cadre des forums régionaux sur l'évolution probable du climat

Nations Unies. Commission Economique pour l'Afrique; Nations Unies. Commission Economique pour l'Afrique. Division des initiatives spéciales. Centre africain pour les politiques en matière de climat; Nations Unies. Commission Economique pour l'Afrique; Nations Unies. Commission Economique pour l'Afrique. Division des initiatives spéciales. Centre africain pour les politiques en matière de climat

"Nations Unies. Commission Economique pour l'Afrique; Nations Unies. Commission Economique pour l'Afrique. Division des initiatives spéciales. Centre africain pour les politiques en matière de climat; Nations Unies. Commission Economique pour l'Afrique; Nations Unies. Commission Economique pour l'Afrique. Division des initiatives spéciales. Centre africain pour les politiques en matière de climat (2018-05). Note conceptuelle: Atelier de partage de connaissances et de partenariat dans le cadre des forums régionaux sur l'évolution probable du climat. NU. CEA Atelier de partage de connaissances et de partenariat dans le cadre des forums régionaux sur l'évolution probable du climat (2018, 13-14 mai.: Djibouti, Djibouti). Addis Abeba. © NU. CEA. https://hdl.handle.net/10855/24521"