Democracy, governance and the Pan-African idea: whither Africa?: report of colloquium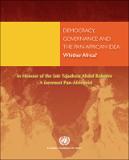 Published
2012-05
Author(s)/Corporate Author (s)
United Nations. Economic Commission for Africa;

Abstract
The colloquium aims at promoting greater awareness, sensitization, knowledge generation and provide policy direction on governance in Africa. The high level colloquium while provoking debate and discussion was designated in honour of a notable pan-African civil activist Tajudeen Abdul Raheem. ECA is mandated with undertaking policy research, generating knowledge and conducting policy analysis and advocacy to foster Africa's development and integration, the institution consequently organized the colloquium on the theme: "Democracy, Governance and Pan-African Idea: Whither Africa?". The objectives of the meeting were two-fold. The first objective of the meeting is to have a discussion on democracy, governance and the pan-African idea led by a distinguished panel and the active participation of all guests. The second objective is to pay homage to the late Tajudeen Abdul Raheem.
Citation
"United Nations. Economic Commission for Africa (2012-05). Democracy, governance and the Pan-African idea: whither Africa?: report of colloquium. Addis Ababa. © UN.ECA. "
Related items
Showing items related by title, author, creator and subject.
Démocratie, gouvernance et idée panafricaine: où va l'Afrique?

Nations Unies. Commission Economique pour l'Afrique; Nations Unies. Commission Economique pour l'Afrique. Division de l'administration; Nations Unies. Commission Economique pour l'Afrique; Nations Unies. Commission Economique pour l'Afrique. Division de l'administration

"Nations Unies. Commission Economique pour l'Afrique; Nations Unies. Commission Economique pour l'Afrique. Division de l'administration; Nations Unies. Commission Economique pour l'Afrique; Nations Unies. Commission Economique pour l'Afrique. Division de l'administration (2012-05). Démocratie, gouvernance et idée panafricaine: où va l'Afrique?. Addis Abeba:. © NU. CEA,. "

Report on the conference of African parliamentarians

United Nations. Economic Commission for Africa; United Nations. Economic Commission for Africa. Multidisciplinary Regional Advisory Group

"Balogun, M. J.; United Nations. Economic Commission for Africa; United Nations. Economic Commission for Africa. Multidisciplinary Regional Advisory Group (1996-04). Report on the conference of African parliamentarians. [Addis Ababa]:. © UN. ECA,. http://hdl.handle.net/10855/15234"