Sustainable development report on Africa: sustainable consumption and production for sustainable growth and poverty reduction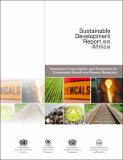 Published
2010
Author(s)/Corporate Author (s)
United Nations. Economic Commission for Africa;
United Nations Environment Programme;
United Nations Industrial Development Organization;
African Roundtable on Sustainable Consumption and Production;

Abstract
The report documents progress made by African countries in the implementation of sustainable development commitments on the thematic cluster of issues comprising transport, chemicals, waste management, mining and sustainable consumption and production (SCP), including a 10-Year Framework of Programs on SCP. It also highlights implementation challenges and constraints confronting African countries, and identifies policy measures and actions needed to accelerate implementation. The assessment provided in the report is in keeping with the overall goal of SDRA production, which is to serve as an important medium for monitoring and assessing sustainable development in Africa. The report is targeted at all relevant stakeholders, including member states, regional and sub-regional organizations, civil society, the private sector and development partners. The intent is to advance the actions necessary to accelerate progress towards achieving sustainable development in Africa. The report is also intended to serve as a reference document for CSD-18 deliberations.
Citation
"United Nations. Economic Commission for Africa; United Nations Environment Programme; United Nations Industrial Development Organization; African Roundtable on Sustainable Consumption and Production (2010). Sustainable development report on Africa: sustainable consumption and production for sustainable growth and poverty reduction. Addis Ababa:. © UN. ECA,. "
Related items
Showing items related by title, author, creator and subject.